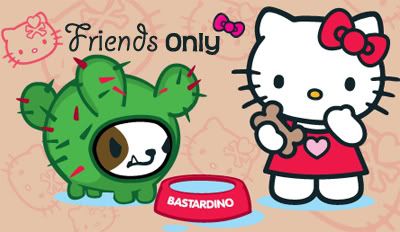 i'm Jaime. i love meeting new people with similar interests. here are a few of the most important things i'm interested in:

music (especially electro and indie)


Hello Kitty


my best friend
evil_shorty


my cats


dealing with mental illness


playing video games


painting and art


cute things


coffee


sushi


cherry blossoms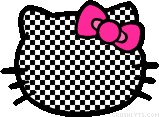 Hello Kitty/ Tokidoki banner by

Current Mood:

cheerful


1. MGMT - Siberian Breaks (this is without a doubt my favorite song of the year. it's so amazingly prog rock and magical. this blows away anything off of Oracular Spectacular in my opinion.)

2. Mark Ronson and the Business Intl. - Bang Bang Bang (i could listen to this song 24/7 and it never get old. adding Q-Tip to any song is always an awesome idea)

3. Miike Snow - Black and Blue (my fave track off the album)

4. Charlotte Gainsbourg – La Collectionneuse (so glad she made another album! i love everything she does, but this song was always stuck in my head)

5. Klaxons - Echos (great way to start off their new album)

6. Kele Okereke - Tenderoni (yes i know it still sounds a bit like Bloc Party, but glad to hear solo stuff from him)

7. The Bird and The Bee - Heard it On The Radio (i have listened to their Hall and Oates cover album a zillion times this year. i never realized what a big Hall and Oates fan i was until i listened to their versions)

8. Arcade Fire - Ready to Start (this song just resonates with me. most listened to off the album. very dreamy song.)

9. Foals - Spanish Sahara or Alabaster (can't choose between the 2. i loved stuff like Cassius, but this album is pretty genius)

10. Uffie - First Love (ok, technically i've been listening to this song for like 5 years, BUT now she has a real album and this was always my fave of hers. it's cute)
a real update, i know! crazy. but i like to do this every year so i can keep up with what i'm listening to and if my tastes change. i didn't 'buy' or otherwise get many new albums this year so i think i'm going to go with just the tracks that defined my year. some may be from the same artist and i apologize for not being original.


OMFG it's super cute! the animation is spot on! i love the cut scenes! the actual game play graphics are much better than Big City Dreams. i think they could have done a tiny bit better, but it beats the square looking people in that game. so you start that game as HK and you have to go and find out when everyone of your friend's birthday is. this is other Sanrio characters and HK's family, not HK's friends (i hope you know what i mean by that). almost every character has 2 mini games excluding Mimmi, Papa, Mama, and Kurinrin (it pisses me off that he doesn't have games too!). the mini games are actually really fun aside from stupid things like looking for Pochi for Badtz Maru or finding a lost Den Den for Keroppi. the goal is to get a gold medal in all of the mini games/adventure hunt/coloring things. the better you do at the games the more your friends will tell you about themselves and the more stamps you'll get for your book. HK is all about carrying around this book in this game that has everyone's birthdays, the stamps, what they like, and what they would want as a bday gift.

the game calendar starts on Nov.2 (which i at first thought my DS was set wrong, but it wasn't). you can play through a whole day (that goes much faster than real life days) and night. at night there are usually different mini games with the characters than during the day. say during the day Deery Lou wants to catch butterflies for a mini game. at night he wants to catch fireflies. others are much more different. Cinnamoroll wants to race in the daytime and then at night wants help making hot chocolate. each of the mini games is irresistibly adorable. so even if you have gotten a gold medal in it it's still fun to replay...at least for me. but you don't have to play every single day that isn't a birthday if you don't want to. you can go to the calendar in HK's room and select the day you want to play. you can even change the game to play at night if you don't want to do the daytime stuff. since the next bday after Mimmi's and HK's isn't until December, i skipped ahead to that. you talk to the character having the birthday to find out what sort of gift they would want. you then go to one of the many stores and buy it. now i was super confused by this, but you don't actually pay anything and you don't see any sort of item in your inventory. the store clerk will tell you that you bought mittens and then you go to he special birthday house (i really don't know why there is a party house, but it looks like a cake so it's cool) and a cut scene will happen where Kitty gives the gift and everyone is happy. it's not just bday's though. somethings happen on holidays as well. i played Xmas and the outside of HK's house was all decorated and there were snowmen. and there are also special collectible things to be found lying on the ground for Kitty to put in her room on those days. it will usually say on the top screen if you need to explore to look for something special (like a teddy bear).

the game is really just trying to become BFFs with everyone (and collect all 3 stamps from each character) and then to celebrate their bday and give them the thing they want. i guess in that aspect it sounds kind of lame. but the graphics and mini games make really fun to play. the only other US released HK game i like is the one from GBA Happy Party Pals. i can play that game for hours (with the sound off cos the music for it is horrible. this game is a lot like that one in that you have to have parties for friends and there are mini games. and it's cool cos you end up knowing so much random crap about all of the characters you might not have known before so you're good in case you need some Hello Kitty trivia (chris makes fun of me about my in depth knowledge of kitty's friends and sanrio characters).

the only thing that really bugged me about the game was that Kitty couldn't buy anything for herself. as you play though you end up getting gifts randomly, like a new outfit. i kept trying to make her buy an outfit for herself but she couldn't. and it annoys me that we celebrate Mimmi's birthday but not Kitty's. i know i know. i'm making Kitty selfish and the whole point is to be about giving to others. but still! Kitty needs a party!

so if you do love HK and you think my explanation of the game sounds like something you can deal with, then this game is for you! i like it mostly cos it's so freaking cute. if you want like a real in depth HK game then you'd have to play Hello Kitty Online MMO. while i liked that game during the 2 years of beta testing i guess i kinda burned out when it actually opened. not to mention that i find most of the people on there who i didn't already know from beta testing or from other HK sites annoying. lots of trolls. HK is not a place for trolls! it's for happiness!

that's my take on it. here's the trailer:


i found out about this game like 2 days ago and had to have it. i was mad at myself for not knowing that a new HK video game was out but i was instantly skeptical because the past 2 US released HK games (Big City Dreams and Party [not to be confused with Happy Party Pals for GBA]) were LAME. the graphics sucked. the mini games weren't that great. but at least Party had Kuromi and the Sugar Bunnies in it which is awesome cos they are relatively new characters compared to Keroppi. anyways, there really wasn't much on the web that i found about the game in a way of review and i knew that some HK lovers might want to know what the game was like before they invested money in it i decided i'd write one myself.
Current Mood:

blah
Best Albums of 09
- not in any order
La Roux - La Roux
(it was painfully obvious that she was going to be huge)
Lady Gaga - The Fame Monster
(she owned this whole year)
Phoenix - Wolfgang Amadeus Phoenix
(fantastic album. they finally made their big break in the US.)
Bat for Lashes - Two Suns
(my most anticipated album)
Yeah Yeah Yeahs - It's Blitz!
(Karen O is my hero)
Silversun Pickups - Swoon
(adorable shoegaze)
Animal Collective - Merriweather Post Pavilion
(i didn't think i'd like this, but i did)
Grizzly Bear - Veckatimest
(probably going to be on a lot of "best of" lists)
MSTRKRFT - Fist of God
(one of my favorites this past summer)
Empire of the Sun - Walking on a Dream
(ok, i know the album technically came out in Oct. of 08 but i have been listening to this album on repeat all year)
Passion Pit - Manners
(another i listen to on repeat)
Franz Ferdinand - Tonight
(very dance-y and fun)
Imogen Heap - Ellipse
(liked almost every song)
Best Tracks of 09
(still not really in any order)
Silversun Pickups - Substitution
Lady Gaga - Bad Romance
Phoenix - Lisztomania
Bat for Lashes - Daniel
Passion Pit - The Reeling
Animal Collective - My Girls
Yeah Yeah Yeahs - Heads will Roll
La Roux - Quicksand
Franz Ferdinand - Ulysses
Grizzly Bear - While You Wait for the Others
Flaming Lips feat MGMT - Worm Mountain
Empire of the Sun - Walking on a Dream
Imogen Heap - Tidal
my Honorable Mention goes to
Adam Lambert
for
For Your Entertainment
(track and album). it's a guilty pleasure. besides,
his album cover is epic
.
Travis, Doves, and Air all had new albums this year only none of them were so great which makes me sad. their older stuff is better (this is in regards to all of these bands).
i suppose it's that time again! it's really early in the morning and we're having a massive snow storm here. it freaking NEVER snows here so it's exciting...but also we're probably all snowed in. i hope someone went to get alcohol before the snow. so while i am sitting here freezing (and kinda wishing i had the zebra print Snuggie) i thought i would post my best of list.
first here's the one about
Hello Kitty Smashing Pumpkins
.
and this one is about
Hello Kitty Halloween costumes
! and it even has a quote from me!
i am so excited about this you have no idea! i know it's a site mocking hello kitty but everyone who loves hello kitty reads it and knows about it cos that's where we find rare things we want. i am so proud!
now i have to go cuddle with chris before he falls asleep!
i'm so excited!! it's like my ambition as a Hello Kitty fan has been confirmed!
Current Mood:

ecstatic
first there is girl who has blog about spending a day doing something she normally wouldn't do. one day
she decided to try being an obsessive Hello Kitty fan
so she could see what the fuss was about and how people treated her. basically, they treated her like a leper. i think that's weird cos i'm one of those people that is always wearing something with Kitty on it and no one says shit to me! i usually get positive feedback. but then again, i don't go around telling people that Hello Kitty will make their life happier (even if it's true). i'm pretty sure the people were just reacting to her crappy attempt at DIY Kitty jewelery. i say this because a REAL HK fan wouldn't have a piece of cardboard around their neck, but an honest to god licensed necklace (the super fans shell out big bucks for Kimora Lee Simmons or Tarina Tarantino). if you want people to believe you're really devoted to Kitty (and not some weirdo) then you need to sacrifice your money to her! if i walked around with a piece of cardboard HK necklace people would look at me like i was weird too! you can't half ass your devotion! over all, i found her experiment really funny and not at all what a real Kitty fan would experience. people love me! yeah, i get picked on a bit by friends about Kitty, but it's all in fun. no one has ever been rude to me because i have on HK hair clips or necklace. i really don't understand why anyone would.
the second thing i found is a lecture by a man who wrote a book on Kitty and her billion dollar industry. he talks about why people get attached to her more than any other brand symbol and how that Sanrio makes billions of dollars without having to do hardly any advertising at all. Hello Kitty fans seek each other out and gush about her together (it's a lot easier since we have our own social networking site!). there is just something about Kitty that makes it easy to want to buy more and more of her products. which then grows into an addiction.
here is lecture:
the HK addiction itself gets many haters. i particularly like what
Hello Kitty Hell
had to say because every single word of it is true.
"October is the start of the worst three months if you happen to live with a Hello Kitty fanatic. The main issue is that the evil feline has her birthday on November 1 which is like giving the Hello Kitty fanatic vast amounts of crack cocaine every day for the entire month preceding it. Halloween only feeds into the frenzy because the holiday gives the fanatic an excuse to actually dress up as Hello Kitty under the guise of a Halloween costume even though we all know this is what she would prefer to wear on a daily basis. The result is that Halloween pretty much guarantees that Hello Kitty pumpkins are going to be carved and Hello Kitty costumes are coming out of the closet to be worn way too many times. Then when the birthday ends, good old Christmas is just around the corner and all the Hello Kitty gifts the Hello Kitty fanatic imagines she will receive continue to ensure that Hello Kitty Hell will be burning red hot into the New Year."
as i sit here typing this i am wearing my Hello Kitty ears. yes, they are supposed to be part of my halloween costume, but sometimes (ok, a lot of times) when i'm at my desk where i keep them i just put them on. not to mention that i AM carving a Hello Kitty pumpkin, i am crazy excited about her 35th anniversary coming up (and all the special collectibles that brings), and i'm freaking pumped for xmas and all the new items that will bring to my collection. it's really interesting that this one simple drawing of a mouthless cat can drive so many people crazy for it. there are mickey mouse fans, but not ones as insane about it as the Kitty people. my aunt is mickey fan and she has some figures and sweatshirts and whatever, but she would NEVER drop the kind of money i have dropped for my things. it's totally irrational. it's totally against everything i believe about money (i hate capitalism). but i do it anyway because i love her and want everything she comes out with. if i have a choice between something plain or the same thing with HK on it, i HAVE to have the HK one. chris just got me an HK flash drive that is encrusted with rhinestones in the shape of her face. i never had a flash drive before, but i always knew that if i got one it had to be the Kitty one. if i was rich my Kitty collection would be out of control!
so maybe this has given all of non Kitty loving friends some sort of insight on what it's like being completely and totally obsessed with her. i still can't explain exactly why when i see her i have a reaction similar to a crack addict looking at a fresh rock i bought off a dealer, but i do. maybe some day we will explore the Kitty region of the brain! until then, this is the only explanation i can come up with.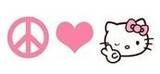 ps.
cuppykate
made me the super cool Tokidoki Unico blinkie. go join her blinkie community
blinkieville
i found a few things online today about Hello Kitty and why there is such an obsession with her and it's all really interesting.
Current Mood:

contemplative
i must learn how to sit on the lighthouse! i tried to push Whitney up there but she got pissed!
Current Mood:

amused
thefridayfive
Ear worms are those annoying little songs that get stuck in your head. Sometimes they are the last song you hear on the radio before you go into the office, sometimes they just randomly pop in.
1. What is a common ear worm that you get?
jermaine stewart "we don't have to take our clothes off". god damn i love that song.
2. How long do they last?
sometimes awhile. i had "blinded by the light" in my head for months
3. What do you do to get rid of them?
post the song on LJ so i can share it
4. What is the worse ear worm you've ever had?MARCONI PLAYS THE MAMBA
!! aka We built this city by jefferson starship
5. Do you get some guilty pleasure in passing the ear worm along?
sometimes. but it's usually cos hilary gives them to me and then i can't get rid of it. so she started it.
oh god now all i hear is "marconi plays the mamba".... it makes me want to DIE!
remind you of anything? i just noticed this and it makes me excited!
oh, also. go vote for chris' tshirt design so we can win
$1000
of free absinthe. cos you know, that's exactly what we need. free absinthe. if anything it will alleviate the pain of not winning real money. we will drown ourselves in green sorrow and sugar cubes. and then we'll die of alcohol poisoning or lip numbness. but seriously, vote for chris cos he did a good job and he won't stop talking about it. i think these people should give us free absinthe just cos he's a walking promotion (he has the La Fee Verte eye tattooed on his arm). they did send us free absinthe once...but that was because i thought customs stole it and they sent me another 2 bottles. i find the drink overrated and pretentious, kinda like my mother. *zing!*
http://www.originalabsinthe.com/contest/Absinthe_Contest_2008/index.php
vote for the ones by C Brightly
Current Mood:

peaceful